Post by BEEH on Mar 6, 2009 0:26:24 GMT -5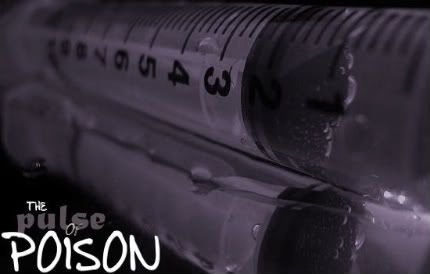 There was once a time when a human being could feel completely confident that if they were to go into the world and interact with other human beings that they would return home and nothing would have changed but maybe the time. That time of confidence is rapidly flowing down the drain. Life is evolving into a fight to be at the top, the hierarchy which separates the some-bodies from the nobodies has evolved as each person fight to reach the top becomes more and more brutal. There is an obsession with success, fame and fortune and there are millions of people that will stop at nothing to reach the top.

Confidence within oneself only seems to survive in the people who have made their way up the social ladder and have rested upon the top. Those people have ultimate control of where their confidence is. The confidence they find lies within what is known to be called 'poison'. It flows through the veins of every being that breathes and operates, poison brings confidence and self-destruction. Poison is all that the world knows poison is what the everyday person struggles with. It doesn't matter what your poison is, it is suffocating your world.

Drugs, sex, love, death, anger, hate, murder, work, alcohol, partying, boyfriends, girlfriends, mothers, fathers, babies, brothers, sisters, pets, friends, enemies, dreams, homes, cars, traffic, prison, police, doctors, disease, weight, music, movies, television, radio, dance, soccer, football, sports, writing, reading, lust, infatuation, school, crushes, depression, head-aches. All of it is the poison; all of it is slowly murdering the world that each human being finds themselves so comfortable in.

In Atlanta aswell as the rest of the world, life has become a game of survival of the fittest. Every man for himself, every battle to be fought with its own creator; this is how you live, you struggle through and you battle with the poisons that flow through your veins and think your thoughts. You fight until you take your last breath, until you find yourself in a world of Nirvana. This is what life has become.

THE PULSE OF POISON !rules! canons! face claims! advertisements!
[/blockquote][/blockquote]